Important Dates

Submission:

Extended to Apr. 22, 2019

Conference:

May 29-31, 2019

Notification:

20-40 days after the submission

Publication:

15-20 days after the final edition
Contact Information

Email:

huiyi123net_may01@126.com

Cell Phone:

021-51098086

Telephone:

0086-18101720867

QQ:

2934920393
The information about the Keynote Speakers of CHEMBIO2019 is as follows, which will be updated regularly.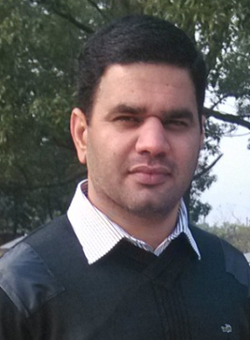 Dr. Tahir Mehmood
Dr. Tahir Mehmood
Wuhan University of Science and Technology, China
Biography: Dr. Tahir Mehmood is a post-doctoral researcher at the State Key Laboratory of Refractories and Metallurgy, Hubei Province Key Laboratory of Systems Science in Metallurgical Process, International Research Institute for Steel Technology, Wuhan University of Science and Technology, Wuhan, P. R. China. Prior to his current status, He was invited by chinese scholerships council (CSC) for PhD in materials Science at Huazhong Normal University, Wuhan. His research specialized in Synthesis, Characterizations and functional Properties of Transition Metal and alloy nanostructures and explores the different facile methods to prepare optical and magnetic nanostructures of transition metal oxides, ferrites and binary alloys with controlled size, shape, composition and investigation of structural, optical and magnetic properties by considering the nanoscale effect. He has published more than 20 papers in reputed peer-reviewd journals, and has been participated in several international events on nanoscience and nanotechnology (e.g, World Congress on Chemistry and Chemical Engineering (WCCCE2016) held at Jinan, China during Oct. 23-24, 2016, and International Conference on Applied Mechanics, Mechanical and Materials Engineering (AMMME2016), which is held on December 18-19, 2016, Xiamen, China). He has completed several independent research project in past. Earlier, He has completed his master degree from Hazara University, Pakistan.
Topic: Synthesis of Single Metal and Metal Alloy Nanowires via Electrochemical Deposition
Abstract: To understand the growth mechanism of electrodeposited Fe, Ni, Ag and Co, we have studied the metal nanowire growth by SEM and Potentiostat by X-ray diffraction (XRD), transmission electron microscope (TEM) and scanning electron microscope (SEM). In an electrolyte the mass transfer of ions takes place by three principal mechanisms: a) Diffusion, b) Migration, and c) Convection. The formation of fcc crystals can be attributed to smaller critical clusters formed at a higher potential, lower deposition temperature and higher concentration of metal ions during electrochemical deposition process. The content of Fe inside nanowires increases with increasing potential, decreasing deposition temperature and increasing concentration of Fe ions. This can be verified by the polarization curves of depositing Fe Fe, Ni, Ag and Co nanowires. Thermal agitation at low temperature is marginal for activating the surface diffusion and the growth is difficult. Using the electrons tunneling theory, we have argued that the current density of the metals depends on the workfunction and width of double layer. The current density increases with decreasing the length of double layer.